Recent Articles
Mar 02, 2020
It's back: Pink Shirt Day

And the theme this year is Lift Each Other Up
Feb 05, 2020
Importance of Kindness in Business

What do you need to know about becoming a leader of a sustainable business?
Jan 20, 2020
An antidote to Blue Monday

How an act of kindness benefits you.
Kindness comes to Holy Family
Feb 16, 2013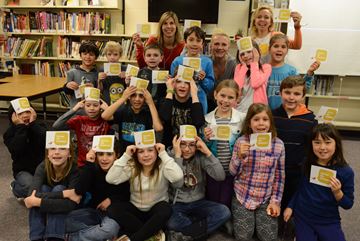 Teacher Anna Trojanowski's Grade 3/4 class took part in a kindness workshop led by Kindness Coaches Ivy Sims and Steffi Black at Holy Family Public School Tuesday.
The coaches ran an activity where students chose a classmate's name from a box, wrote some kind words about them and shared it with the class.
Kindness is a core value at the school and the workshop kicked off a month-long curriculum leading into the internationally-recognized Random Acts of Kindness Week, Feb. 10-16, 2013

Did You Like This Post?
Sign Up for Quarterly #spreadthekindness & Coaching Tips Newsletter
Empowering Updates for the Heart and Mind!